Christmas figurines
Christmas Figurines & other Christmas Items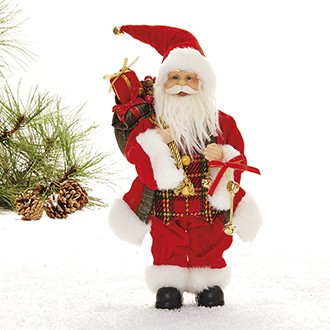 Christmas figurines are one of many of the Christmas products we offer at Pobra. We offer Santa, gnomes, reindeers, snowmen, angels, Christmas trees, and several figurines can spread some light with either LED or candle.
At Pobra A/S, we also sell Christmas items. At Pobra A/S, we sell fabric items such as; Santa, snowmen, pixy boy/girl, owls, gnomes, garlands, mice, and teddy bears. We offer standing items, as well as, hanging items. Some items would fit perfectly on the Christmas three whereas some will be perfect for a Christmas village.
We have a great variety for your customers. Get inspired by our full collection here.
The figurines are a great way to spread some Christmas spirit around the home. We offer figurines that stands, which makes them perfect for e.g. shelves, window sills, and tables. Furthermore, we offer hanging figurines, which are great for trees, logs or windows etc.
The figurines are cute interior during December, and will never go out of style. When the Christmas holidays are over, you can put away the figurines and take them out again the following year – year after year. Our Christmas Items collection contains sweet looking figurines to spread joy around your home. They are created with red colors to create the right Christmas feel.
We also offer cribs and religious figurines. If you want to bring the meaning of Christmas into your home, we offer churches, the scene of Jesus in the crib and other religious figurines.
Christmas figurines as a gift
Christmas figurines are the perfect gift if you are attending dinners, parties or events. You can never have really have too many decorations or figurines. At Pobra A/S, we have a great collection of Christmas products, so you can give your customer the opportunity to find the perfect gift.
Great selection of Christmas items & décor
We offer a great selection of cozy Christmas decorations, such as;